+3
pinkstart101
karenbearhug
Admin
7 posters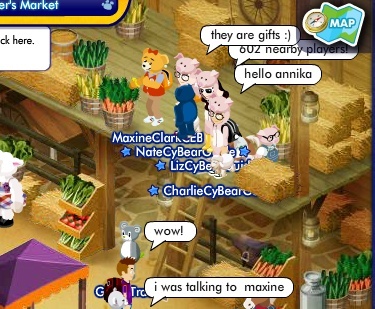 Everyone is having a furbulous time in the Farmer's Market as I type this! The celebrities and the CyBearGuides are in Bear Boulevard, trying to set a record for the most number of nearby players and right now, as per the CybearGuides, nearby player count is 602!
UPDATE: As of 5:30 BVT, player count is 720 and counting!
Here are this month's Celebrity Gifts - Blue Straw Hat from Miguel, Yellow Straw Hat from Chloe, Red Straw Hat from Maxine, and Green Straw Hat from Green Tracks!

Check out the new Farmer's Market through the month pf May for daily gifts, daily Pony ride and more!
Last edited by Admin on Mon May 07, 2012 8:21 am; edited 1 time in total

Admin

Founder/Owner







karenbearhug

Officer





Cool! Are they still online?

pinkstart101

Guide Bear






Maxine is online! And they just announced the player count.. it's 850 players inside the barn! Lol!

Lexi

Chief Officer/Book Critic





That would explain why I can't get into Bear Boulevard.

MollyFlyer

Guide Bear






Actually, it went over a thousand! http://www.bearvilleguide.com/t61073-achievement-unlocked-over-1000-players-in-farmer-s-market-today

AshtonCyBearGuide

Build-A-Bearville CyBearGuide






LakotaSnowball

Novice Bear






---
Permissions in this forum:
You
cannot
reply to topics in this forum