New items are revealed today by one of the friendly CyBearguides! We spotted CharlieCybearguide in Town Square, thanks to our very own karenbearhug's tip on
Twitter:
"CharlieCyBearGuide is riding a cool tractor in Bearville! The ride will be available on May 4th."
Here's Charlie, on the
new tractor
, wearing a
pig costume
, possibly from his new farm animal!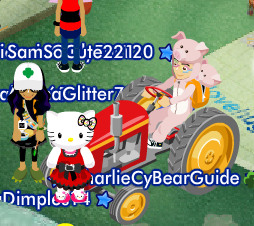 He was also seen wearing a
Farmer's T-shirt
and
overalls
, along with his furry friend. He said these items will be added to the BVO store catalog on Friday! Can't wait! Too bad I couldn't check his inventory. This shows up when you click on his character.
Here are some of the new farm animals and smallfrys available in buildabear.com/ buildabear.co.uk and will be coming to stores Friday! You will also get a free
Farmer's Market Tote
with a minimum purchase of $20/£15, that comes with a webcode. We also saw Charlie today walking around with a tote bag!
What can you say about the Farmer's Market Collection? And what do you expect from Bearville in the coming days? Tell us what you think!

Lexi

Chief Officer/Book Critic





Cool! I'll ask my mom if I can buy the pig, it's adorable.
Thanks again (:

Chanty

Novice Bear






Yay, farm animals!
I love the pig too, LOL

kristylucky1

Helpful Bear






I WANT THE LLAMA SO MUCH!!!! AND THE PIG!!! I LOVE THIS COLLECTION!!!

sandyverybeary3

Helpful Bear






---
Permissions in this forum:
You
cannot
reply to topics in this forum