PLEASE DO NOT POST HERE UNLESS YOU ARE POSTING YOUR ENTRY. PM/VM/Email ALL QUESTIONS TO MAMANOODLES.

Holiday Cooking Contest:
This contest will run from December 1st to December 31st at 8pm EST.
Cook or bake something to show your friends and family how thankful you are! Help your parents with a dish for the holidays, bake cookies for a party, fix breakfast for your siblings! The possibilities are endless!
-You must cook or bake the dish, you may have a parents assistance but they cannot do it all for you.
-You may not use a store bought dish and claim it as your own. We'll know
-Ask your parents permission before using the kitchen!
-Take a picture of your creation. This is a MUST. You may not enter without a picture. This picture MUST contain a card with your BGF Name, handwritten next to your food item. Any entries without this will be disqualified. You may NOT photoshop your name or add it in any virtual way. Entries marked this way will also be disqualified.
-One entry per member. Officers may enter but will not be eligible for prizes
- Write a short paragraph about your food item. What did you make? Who was it for? Why did you choose that particular recipe? How did it go?
Prizes
______
1st Place: Sanrio Tee Code
2nd Place: Cookie Oven Code
3rd Place: Easter Basket Code
4th Place: 2 mystery animal rewards (PSI)
5th Place: 5 credit shopping spree at BVO
6th Place: 2 credit shopping spree at BVO
7th Place: 4,000 Paw Prints
8th Place: 3,000 Paw Prints
9th Place: 2,000 Paw Prints
10th Place: 1,000 Paw Prints
*Prizes are non-transferrable. You get the prize for the place you earned, end of story*
Example:
I made Pumpkin Spice Cupcakes with cream cheese frosting to share with my friends and family! I chose Pumpkin because it reminds me of the holidays and always tastes delicious! I made cute cupcake shapes for the top by rolling out fondant and drawing on it with food coloring markers. They cupcakes were tasty and fun!

MamaNoodles

Director Bear






Our Seasonal Smoothie!
*************************************************
This is a smoothie made of one bannana and one apple. We made this by cutting down the fruit and adding some yougurt, we then put it in a mixer and we had the liquid, to make it original we added and cutted down an orange and added it to the cup, we then also added some biscuit and we cutted it down as a cone. As my brother loves smoothies we made it for him! We did this because we thought everybody would do something for christmas, so we choosed this to do it original and summery. We found it kind of complicated but we found it really fun, specially to do it in the mixer!
-HelenaCool18 & LoraDazzle4
Edited red out , please note red is reserved for officers / Bear, an Officer of the Board

helenacool18

BABV Events Planner





This is my creamy/boiled soup. The ingrediants include lots of vegtables although they all seemed to sink to the bottom, some type of cream, and litttle pieces of chicken. After we added the ingrediants we slightly cooked the soup so it looks creamy/ boiled and then my mom adds a secret ingrediant. Then we serve it!! (It tastes better than it looks trust me lol) We make this for Christmas because usually it is really cold so we cook this up for all of my extended family.

GreenEarthGirl123

BABV Events Planner





My food is a cupcake. (: i chose cupcakes because they are cool and easier to share. All you have to do is spread white frosting then place minature hershey kisses as the eyes and mouth. The earmuffs are made out of gumdrops and a twizzler. The nose is just a small slice of an orange gumdrop. I did this with my Mom and sister and we had lots of fun. I shared them with my friends at school the next morning and they were grateful. I'm eating the one in the picture as I type. lol
Merry Christmas!
-JanetBanana21

JanetBanana21

Friendly Bear






My sister and I made gingerbreads and cranberry cookies together for the holidays. As you can see I decorated the gingerbread man at the top, I didnt have any frosting so I put marshmellows on it. I also sprinkled chocolate chips for decoration. I had a ton of fun making them and they taste great!

Bear

Officer





I made Holiday shaped cookies (pre bought as dough) frosted them and mixed colors to make orange, purple, and lime green, and decorated them with sprinkles! My Grandma and I baked the cookies, and I decorated them yesterday with my cousins (they had separate cookies). They were for the whole family (except my sister, she has her own that she made lol
)
I don't know if you can read my note card with my bgf name on it but it says NikkiAngel877. When I resized it because it took up the whole screen, it blurred it a little. Here is the link to see it better:

NikkiAngel877

Friendly Bear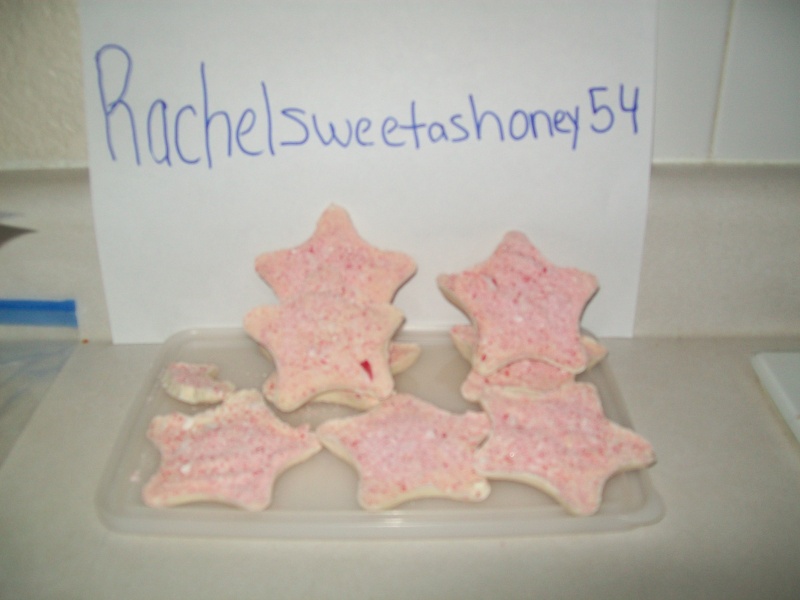 What I made was peppermint bark with peppermint spinkles
I choose my peppermint because it is easy and good for the hoildays
I shaped them to look like stars for the holidays

PrincessRachel

BABV Events Planner





My entry is Christmas cookies!! Sorry its only one cookie. I didnt know about this contest until today so this is the last cookie that was left.
i first shaped the dough, then baked it, then decorated them! They were delicious! I had alot of fun baking them with my family!! Happy Holidays!

BearHugger

Helpful Bear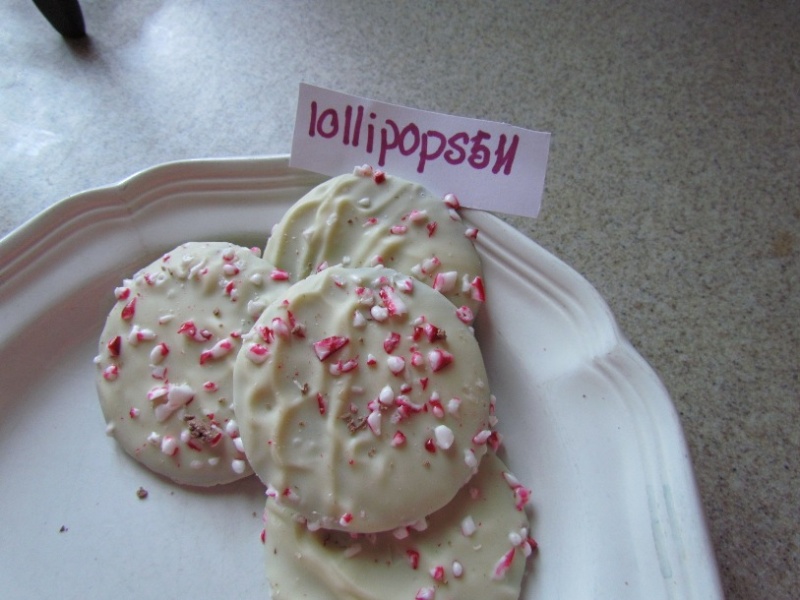 here is mine and there peppermint cookies and i made them for a party we had
Edited out Off-site link in image / Bear, an Officer of the Board
Last edited by Bear on Fri Dec 31, 2010 6:13 am; edited 2 times in total (Reason for editing : i resized the picture)

emmie

Guide Bear






[img]
[/img]
i made a homemade pumpkin pie, it was for my family (although this is just a slice left over from the holidays) everyone in my family made a food item (well, everyone who is old enough to operate the oven) and we all made food and shared it, i choose this particular recipie because not only does it remind me of the colder seasons (fall and winter) but also it reminds me of a family bond we share around this time. it went great! they loved it, but everyone was too full to eat the last 3 slices (picture of one of the slices left).

GabbyChocolate

Novice Bear






The contest is now over; stay tuned for the results!

Bear

Officer





---
Permissions in this forum:
You
cannot
reply to topics in this forum