How To Upload a Picture!
One of the coolest things about our forums is that we've tried to make it as easy to use by everyone as possible! You do not need to host your photo somewhere else! You can actually do it here in Bearville Guide Forums!
Step One: Find the "host an image button" and click on it

Once you do, a small pop will appear asking to put in the URL for your photo.

Step Two: Click on the BROWSE button and from them, find the image you're planning to upload. Click on the image and approve it.

From here, you'll be directed to an area where you are given 3 hyperlinks.
Step Three: Click on the third and press the copy button (In some case you still have to press CTRL + C to make it work)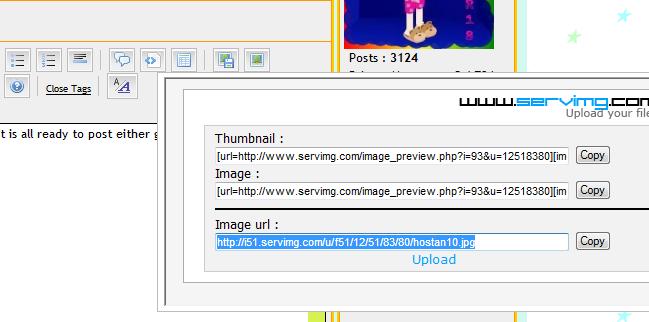 Now you're ready to show off your images to the board!
Step Four: The last thing you'll do is simply use the Image Button in your toolbar. Paste your image code into it and press OK and your image will be in your New Topic or reply then press SEND

Isn't it easy?
Just remembear Bear Pals! Keep your images safe and clean and applicable to all the members of Bearville Guide Forums!
-----------------
Disclaimer:
Bearville Guide Forums is not responsible for any direct, indirect, incidental, consequential, or any other damages, arising out of, or in connection with, the use of this website, or in reliance on the information available on the site. This includes any personal injury, business interruption, loss of use, lost data, lost profits, or any other pecuniary loss. Bear Boulevard is not responsible for the content of our users' posts, and states that the views of our users are not necessarily that of Bear Boulevard.
Bearville Guide Forums is not an official site of, sponsored by, nor affiliated with Build-A-Bear Workshop
and Build-A-Bearville.com
. Build A Bear Workshop
is the trade name and the registered trademark of Build-A-Bear Retail Management, Inc. Bearemy
and all Build-A-Bearville.com
character names, logos, and images are trademarks owned by Build-A-Bear, Inc.

HamptonBear

Chief Officer





---
Permissions in this forum:
You
cannot
reply to topics in this forum