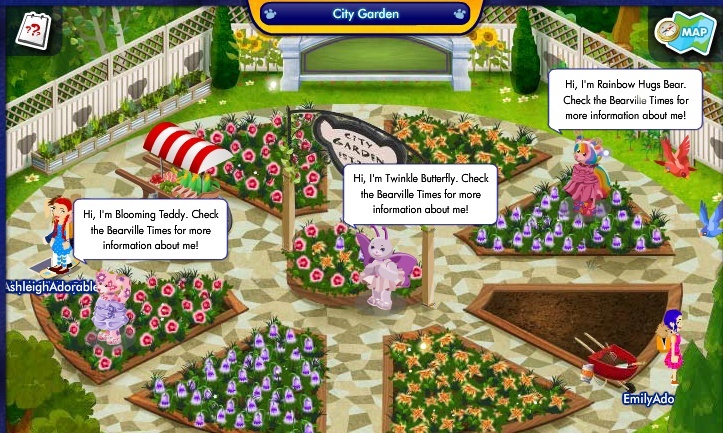 Head over to the City Garden for a magical experience with the all new Enchanted Garden Bears! We've seen LizCyBearGuide and CharlieCyBearGuide parade all weekend with these new furry friends and today, Blooming Teddy, Rainbow Hugs Bear and Twinkle Butterfly are in the City Garden to sprinkle some magic into your gardens! With the aid of these wonderful Butterfly Friend Helpers, you don't have to wait for days to harvest! You can earn bearbills and bags of seeds while tending your plants. Today, I got the most rare seed of all- the Magical Seed! I got it from harvesting Begonias and now I have a Tree House!
Here's how the Butterfly Friend Helper System works. Based on your number of friends, number of furry friends and whether or not you are a Jr CyBearGuide, you earn Fairy Friend Favors. Use your friend favors to tend and harvest as many plants as you can!
Butterfly Friend Helper System is based on the following:
5 Base points
1 point per friend/buddy
10 points for each furry friend you have
5 points for being a Jr CyBearGuide
When you use up all your points, you will get them again the next day, plus extra points should you add a buddy or add another furry friend. You may also use Fairy Friend Favors when you visit your buddy's garden and tend their plants. And you will randomly receive bearbills and seeds!
One letdown: Inability to decorate gardens. Unfortunately, you cannot add stuff anymore. I wanted to put up a Gazebo but it didn't let me.
What do you think of the new and improved City Garden? What have you harvested today? What seeds did you get? Share it in the comments below!

Admin

Founder/Owner






i harvested stuff, but i didn't get seeds
i got some bear bills though

sandyverybeary3

Helpful Bear






I got magical seeds too but I got it by harvesting roses

dakotaflower80

Novice Bear






I got donut seeds! Great gardening improvement.

AmyNovembear1

Novice Bear






---
Permissions in this forum:
You
cannot
reply to topics in this forum