I made a new avvie and siggy using the lyrics from Miley's new song, Ordinary Girl. It was fun putting the boxes together as if they were puzzle pieces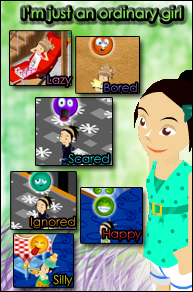 NadineFriendsRule

Guide Bear







Lovelistic

BABV Events Planner





Wow they are mazing Nadine <3
i love them So much
I Specially Love your Avatar <3
He he you did an amazing job on both of them ;D!

Jaszluvsbabv

Graphic Artist





That is super cool!

retheriolu

Friendly Bear






kool! Keep up the good work!

iicuddles

Friendly Bear






I really like the grass brush! I love these graphics!

mindynature

BABV Events Planner





That is super cute! I love the text and the whole color scheme was
absoloutely breath-taking. I love it sooo much, amazing work. I can't wait
to see more of your amazing work.

~Rain~

Guide Bear







incredible! I love it alot!

GreenEarthGirl123

BABV Events Planner





---
Permissions in this forum:
You
cannot
reply to topics in this forum