Rules Of Team competition
1. Each day we will have a new challenge for 7 days.
2. Each team member is to complete the challenge on their own
3.You do not have to do each challenge everyday to get points
4. If members are found to have helped other team members they will be disqualified from that challenge
About prizes:
The winning team* will each receive 2 BVO Items of their choice.
*If you are on the winning team but did not participate in the challenges to earn your team points than you will not receive the prize.
Team Spirit
Take a screen shot and post yourself dressed in your team colors, the person who best represents their team will warn 5 points for their team all others will earn 1 point.
Contest deadline: Midnight eastern May 7th
Goodluck

addictiverachel

Manager Bear






here is mine Pastel Pink

❤Crystal❤

BABV Events Planner





My color is Purple


SunniStylish

Associate Bear






Here's mine. My color is Dark Pink


sammicat1211

BABV Events Planner





Wooo! Go dark pink!

Cheer

Events Planner/Superstar





Here is mine Pastel Pink


VanessaBear403

Helpful Bear






my group is the light ppink
EDIT-i cnat upload it as my avi or on thois i am wondering iof someone could meet me online and take th epictue nd send it to me ?

Mimi300

Guide Bear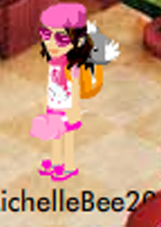 my team is pink!

mimipinky3

Guide Bear






light blue


sunshinesummer7

Guide Bear






Great job everyone!! The winner is CheerBear43!!

addictiverachel

Manager Bear







---
Permissions in this forum:
You
cannot
reply to topics in this forum